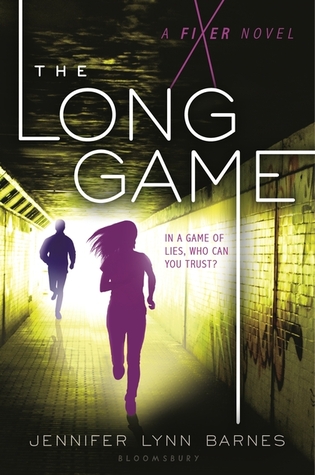 Title: The Long Game (Fixer #2)
Author: Jennifer Lynn Barnes
Publisher: Bloomsbury
Publication Date: June 7, 2016
Rating: 5 STARS!!!
The Kendricks help make the problems of the Washington elite disappear…but some secrets won't stay buried.
For Tess Kendrick, a junior at the elite Hardwicke School in Washington, D.C., fixing runs in the family. But Tess has another legacy, too, one that involves power and the making of political dynasties. When Tess is asked to run a classmate's campaign for student council, she agrees. But when the candidates are children of politicians, even a high school election can involve life-shattering secrets.

Meanwhile, Tess's guardian has also taken on an impossible case, as a terrorist attack calls into doubt who can—and cannot—be trusted on Capitol Hill. Tess knows better than most that power is currency in D.C., but she's about to discover firsthand that power always comes with a price.--Summary from Goodreads
The Long Game is everything that The Fixer is and more. More suspense. More drama. More at stake than ever before. Every time something big would happen in the book I just couldn't believe it! And then it would escalate father than I could have ever anticipated... and then that escalated even more. I was literally tense while reading this book. I dreaded knowing what would come next but I couldn't stop reading! I had to know! Even now I can't believe how amazing this book is. It surpassed all my expectations, which is saying something considering how much I love the first book.
All the characters that I love from the first book are back and it's great seeing them in action. The book starts with Tess, Henry, Asher, and Vivvie doing what they do best: blackmailing a powerful person for the right reasons. Asher makes everything hilarious and Tess is as brilliant as ever. But like I said, things get more intense after that. These relationships grow and change throughout the book as events happen and all I can say is that it is completely believable. The same can be said about Tess's relationships with her grandfather, Ivy, and Adam. I love all these characters and the author writes such complex and interesting relationships that are beautiful and sad all at once.
One of the things that makes this book so intense is because it all feels so real. The events in the book are scarily possible and I really couldn't believe the places this story went. The events were handled in a believable manner and Tess's ability to deal with the them as a teenager was realistic as well. I really couldn't respect this series any more than I do right now. I believe this to be one of the best YA series going on right now. THERE BETTER BE A THIRD BOOK!!!
The Long Game is a non-stop, high-stakes, political thriller that kept me on the edge of my seat. If you love The Fixer than you will no doubt love this sequel. This is a book to move to the top of your to-reads list.
-Christina