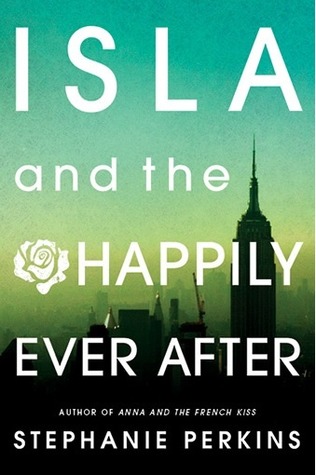 Title:
Isla and the Happily Ever After
Author:
Stephanie Perkins
Publisher:
Dutton
Publication Date:
August 14, 2014
Rating:
4.5 Stars
Love ignites in the City That Never Sleeps, but can it last?

Hopeless romantic Isla has had a crush on introspective cartoonist Josh since their first year at the School of America in Paris. And after a chance encounter in Manhattan over the summer, romance might be closer than Isla imagined. But as they begin their senior year back in France, Isla and Josh are forced to confront the challenges every young couple must face, including family drama, uncertainty about their college futures, and the very real possibility of being apart.

Featuring cameos from fan-favorites Anna, Étienne, Lola, and Cricket, this sweet and sexy story of true love—set against the stunning backdrops of New York City, Paris, and Barcelona—is a swoonworthy conclusion to Stephanie Perkins's beloved series. -

Summary from Goodreads
I had no intention of reading Isla and the Happily Ever After until I had finished one more book for school, but then I got home and... there it was... waiting for me. I pretty much read it in one sitting. Stephanie Perkins has somehow found the recipe for great YA contemporary romance. The characters, the dialogue, the setting, the relationships, and the DRAMA! come together to make this book special and a joy to read. I am in awe of her talent.
The main character is Isla (EYE-la), who we met in Anna and the French Kiss. She's a shy, intelligent girl, who has been in love with Josh since she was a freshman. I loved her character from the first line, where she said, "It's midnight, it's sweltering, and I might be high on Vicodin, but that guy--that guy right over there--that's him." The first chapter continues to be full of sweet and awkward dialogue, and the book goes from there.
It takes place mostly in New York and at SOAP in Paris. Because Isla is a duel citizen she is familiar with both cities and sees then as a local, not a visitor, would. A lot of the places visited in ANNA are mentioned in passing in ISLA which made me feel nostalgic. Isla also visits Barcelona which is a more of a touristy experience because she is seeing it all for the first time.
I would say that ISLA can be read on it's own, but the characters from the previous books do make an appearance. If you haven't read the other books there's nothing that would confuse you, but meeting the characters would be like, "Well, these are pretty cool characters that I would like to know more about." instead of "MY OLD FRIENDS! HOW GREAT TO SEE YOU! *HUG*" which was totally my reaction.
ISLA is different from ANNA and LOLA because the majority of those books focus on the main characters getting together, while ISLA focuses on keeping the main characters together once they become a couple. There is plenty of drama, plenty of ups and downs, and at a certain point I actually closed the book in pain because I didn't want to see what was coming... and then I forced myself to open the book again because I HAD to see what happened. Sometimes I wanted to yell at the characters, but I really couldn't because I empathized too much. A lot of problems that come up deal with the character's own insecurity, and I just can't blame them too much.
By the end of Isla and the Happily Ever After, the characters that we fell in love with have grown and matured. All the drama and angst that they went through had a purpose because they became stronger and better people as a result of it. As a reader, that made it all worth it.
-Christina