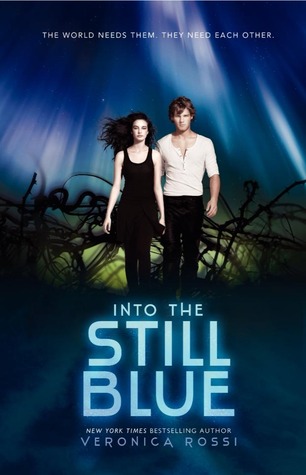 Title:
Into the Still Blue (Under the Never Sky #3)
Author:
Veronica Rossi
Publisher:
Harper Collins
Publication Date:
January 28, 2013
Rating:
4 Stars
The race to the Still Blue has reached a stalemate. Aria and Perry are determined to find this last safe haven from the Aether storms before Sable and Hess do—and they are just as determined to stay together.

Within the confines of a cave they're using as a makeshift refuge, they struggle to reconcile their people, Dwellers and Outsiders, who are united only in their hatred of their desperate situation. Meanwhile, time is running out to rescue Cinder, who was abducted by Hess and Sable for his unique abilities. Then Roar arrives in a grief-stricken fury, endangering all with his need for revenge.

Out of options, Perry and Aria assemble an unlikely team for an impossible rescue mission. Cinder isn't just the key to unlocking the Still Blue and their only hope for survival--he's also their friend. And in a dying world, the bonds between people are what matter most.

In this final book in her earth-shattering Under the Never Sky trilogy, Veronica Rossi raises the stakes to their absolute limit and brings her epic love story to an unforgettable close. - Summary from Goodreads
Into The Still Blue is a griping page-turner and a fantastic conclusion to the trilogy.
I did not recall most of what had happened in the previous book, but with little reminders here and there I did not have any trouble following along or reconnecting with the characters. There really are not any slow bits to this book. It keeps up a fast pace and kept me wanting to know what would happen next.
How the Dwellers and Outsiders got along (or didn't) was briefly addressed, but it was not a significant part of the story. Sable was the main villain of the story. He was creepy and ruthless and provides a challenge for the characters.
It has been great watching how Perry and Aria have developed as character and seeing how far they've come since the beginning. When all seems lost these characters still manage to carry on and fight smart. I really admire them for that.
I also love the fact that Roar can be friends with both Perry and Aria without drama. You really don't see the three of them together often, but their individual friendships are beautiful. I am so glad that it is not ruined by jealousy or something stupid like that.
I am glad that I read the Under the Never Sky trilogy, it is a consistently good series and, like many other dystopians, it ended with hope. Hope for the future.
-Christina