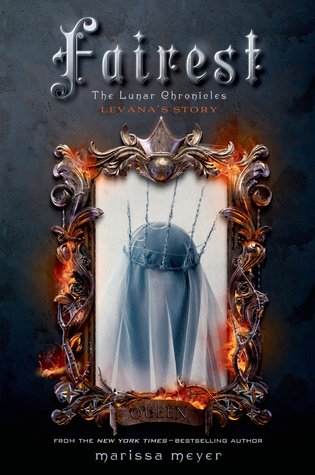 Title:
Fairest (The Lunar Chronicles #0.5)
Author: Marissa Meyer
Publisher: Feiwel & Friends
Publication Date: January 27, 2015
Rating: 3 Stars
In this stunning bridge book between Cress and Winter in the bestselling Lunar Chronicles, Queen Levana's story is finally told.

Mirror, mirror on the wall,
Who is the fairest of them all?

Fans of the Lunar Chronicles know Queen Levana as a ruler who uses her "glamour" to gain power. But long before she crossed paths with Cinder, Scarlet, and Cress, Levana lived a very different story – a story that has never been told . . . until now.

Marissa Meyer spins yet another unforgettable tale about love and war, deceit and death. This extraordinary book includes full-color art and an excerpt from Winter, the next book in the Lunar Chronicles series.-Summary from Goodreads
I have never had so many strong and varied emotions towards a book as I did Fairest.
It began with hope. Before I even opened the book I had hope that it would be good because it's by Marissa Meyer and it's a part of the Lunar Chronicles. How could it not be good? Part of me worried about getting too close to Levana if I knew her backstory. I was assuming that her story would be on where she's really an okay person, but some event changes everything and she becomes a tyrant. I was so wrong.
The second emotion I felt was hate. I hated Levana's guts. I was only 20 pages in and I wanted to DNF this book. The only reason I continued is because it's part of the Lunar Chronicles and I have some sense of loyalty, but I will admit to skimming through some of the pages and even glancing ahead. I know, I know, I'm a terrible book lover. I felt sorry for Levana because of her situation and how her sister treated her, but her weakness made her respond in ways which were cruel. Unlike her sister who is purposefully cruel, Levana rationalizes her cruelty away and believes that she is in the right. She truly believes her own delusions and uses and manipulates people to bring her fantasies to life. Her patheticness and cruelty twisted together made me sick and I despised her.
Eventually I began to warm up to the story. This book covers a long period of time so that which was so abhorrent to me at the beginning wasn't as big a part of the story later on. Levana didn't change. She was still as pathetic, cruel, and delusional as before, only now she has more power. She is a tyrant who believes that her tyranny is what is best for the people and that they should love her for it. I really liked getting some background on Winter's character and I can't wait for her book.
I can't say I liked Fairest, but by the end I was a little in awe. For under 300 pages you are able to see into Levana's head, and you will never forget it. The way she thinks is very specific and doesn't really vary. Now that I was in her head I am able to understand exactly what she would have been thinking during the events of the Lunar Chronicles and I can't deny the value of that.
I don't believe this book is a necessary to enjoying the rest of the series, but it does offer some very interesting insight into the villain of the series. Even though it was hard for me to endure this book, I consider it worth it overall.
-Christina