WARNING! This review contains a minor spoiler
for the Veronica Mars Movie.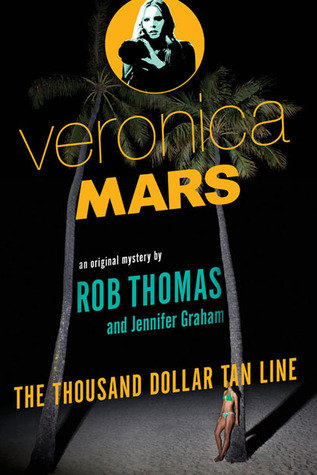 Title:
The Thousand-Dollar Tan Line
Author: Rob Thomas & Jennifer Graham
Publisher: Vintage
Publication Date: March 25, 2014
Rating: 4 Stars
The first book in an original mystery series featuring twenty-eight-year-old Veronica Mars, back in action after the events of Veronica Mars: The Movie. With the help of old friends—Logan Echolls, Mac Mackenzie, Wallace Fennel, and even Dick Casablancas—Veronica is ready to take on Neptune's darkest cases with her trademark sass and smarts. - Summary from Goodreads
I didn't have very high expectations for this book. Usually when a story goes from screen to page it's never as good as its original. I saw that this book had some pretty good reviews and since I love the series I decided to check it out. This book is great. It's like I can really hear the voices of the characters when I'm reading it which, to me, is especially important.
This book takes place after the movie and follows Veronica Mars working as a PI back in Neptune. So far she hasn't had much luck when it comes to business, but then she gets a high paying gig to find a missing girl. The old characters still make appearances but they don't spend so much time on them that it feels unreal or neglects the story. The plot is the main priority of this novel; it isn't just about getting the characters back together.
I'm not sure how this would do as a stand-alone. It has a great plot and keeps you guessing, but if you haven't watched the series or movie it will be like reading a sequel before the first book because of all the backstory of the characters and the connections they have. The book does explain things, but not so much that it's annoying. Fans of the show who haven't seen the movie should avoid this book to avoid spoilers.
The story kept me on the edge of my seat and wondering "who-dun-it" until the very end. It's a great continuation of the series. I hope there are many more Veronica Mars books to come.
-Christina