Waiting on Wednesday is a weekly meme hosted by Jill at

Breaking the Spine

.
Sarah's Choice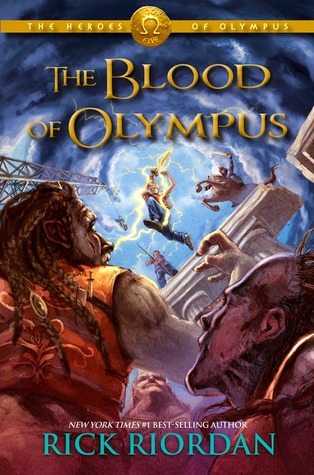 The Blood of Olympus (Heroes of Olympus #5)
by Rick Riordan
Though the Greek and Roman crewmembers of the Argo II have made progress in their many quests, they still seem no closer to defeating the earth mother, Gaea. Her giants have risen—all of them—and they're stronger than ever. They must be stopped before the Feast of Spes, when Gaea plans to have two demigods sacrificed in Athens. She needs their blood—the blood of Olympus—in order to wake.

The demigods are having more frequent visions of a terrible battle at Camp Half-Blood. The Roman legion from Camp Jupiter, led by Octavian, is almost within striking distance. Though it is tempting to take the Athena Parthenos to Athens to use as a secret weapon, the friends know that the huge statue belongs back on Long Island, where it "might" be able to stop a war between the two camps.

The Athena Parthenos will go west; the Argo II will go east. The gods, still suffering from multiple personality disorder, are useless. How can a handful of young demigods hope to persevere against Gaea's army of powerful giants? As dangerous as it is to head to Athens, they have no other option. They have sacrificed too much already. And if Gaea wakes, it is game over. -Summary from Goodreads
The final book in the Heroes of Olympus series is 4 months away and I'm super excited! I love the characters in this series (well, at least the Greek ones.lol) and I can't wait to see what happens to them in the end! I want more PERCYBETH!!!!
Christina's Choice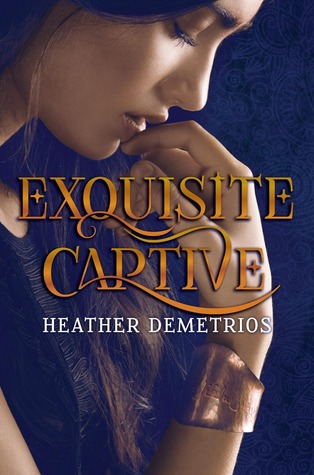 Exquisite Captive (Dark Caravan Cycle #1)
by Heather Demetrios
Forced to obey her master.
Compelled to help her enemy.
Determined to free herself.

Nalia is a jinni of tremendous ancient power, the only survivor of a coup that killed nearly everyone she loved. Stuffed into a bottle and sold by a slave trader, she's now in hiding on the dark caravan, the lucrative jinni slave trade between Arjinna and Earth, where jinn are forced to grant wishes and obey their human masters' every command. She'd give almost anything to be free of the golden shackles that bind her to Malek, her handsome, cruel master, and his lavish Hollywood lifestyle.

Enter Raif, the enigmatic leader of Arjinna's revolution and Nalia's sworn enemy. He promises to free Nalia from her master so that she can return to her ravaged homeland and free her imprisoned brother—all for an unbearably high price. Nalia's not sure she can trust him, but Raif's her only hope of escape. With her enemies on the hunt, Earth has become more perilous than ever for Nalia. There's just one catch: for Raif's unbinding magic to work, Nalia must gain possession of her bottle…and convince the dangerously persuasive Malek that she truly loves him. Battling a dark past and harboring a terrible secret, Nalia soon realizes her freedom may come at a price too terrible to pay: but how far is she willing to go for it?

Inspired by Arabian Nights, EXQUISITE CAPTIVE brings to life a deliciously seductive world where a wish can be a curse and shadows are sometimes safer than the light. -Summary from Goodreads
I love the idea of Jinni and it's not something that's done often in YA, the only ones that come to mind are As You Wish by Jackson Pearce and The Secret of Ka by Christopher Pike. I'm fascinated by how dark stories with genies can be, how dangerous a simple wish can be. It will also be cool to see the difference between the Jinni world and earth, and how drama from one world could cross into the other. Ooh, the possibilities!