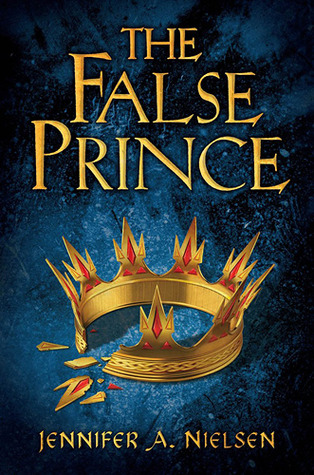 Title:
The False Prince
Author:
Jennifer A. Nieson
Source:
Library
Rating:
4 Stars
In a discontent kingdom, civil war is brewing. To unify the divided people, Conner, a nobleman of the court, devises a cunning plan to find an impersonator of the king's long-lost son and install him as a puppet prince. Four orphans are recruited to compete for the role, including a defiant boy named Sage. Sage knows that Conner's motives are more than questionable, yet his life balances on a sword's point -- he must be chosen to play the prince or he will certainly be killed. But Sage's rivals have their own agendas as well.

As Sage moves from a rundown orphanage to Conner's sumptuous palace, layer upon layer of treachery and deceit unfold, until finally, a truth is revealed that, in the end, may very well prove more dangerous than all of the lies taken together. - Summary from Goodreads
Where to start with this review? I don't even know. I guess I'll begin by saying that Sarah has been telling me that I needed to read this book for a while now and she was right. I really liked it
One of the best things about this book is Sage's attitude. He's got plenty of it. It makes for a great main character and keeps things interesting, it also gets Sage into plenty of trouble.

Although his attitude is the best thing about the book I was annoyed every now and then because while he had plenty of confidence, he wasn't really putting any work into the basic things that was needed for him to become the prince. It was like he was relying on his own personality to win it.
Since the boys are all competing for the same position, and there are no prizes for second place, there isn't close relationships there. Sometimes it seems like they seem to get along, but at the next moment they assume they're going to get stabbed in the back. There's no one that Sage can trust except for maybe Mott, and even he has to take orders from Connor. Sage is pretty much on his own and the book is his one-man-show, but he has the personality to carry it.
Although this book is a Middle Grade book it is as dark as one would expect a Young Adult book to be. The plot was fantastic and near the end I was demanding answers from Sarah in incomplete sentences, she just pulled her own book over her face and told me to keep reading. This book managed to shock me and that alone would have made me fall in love with it.
Overall this is a great book that will keep you on the edge of your seat until the end, whether you're experiencing it by reading, listening, or both like me.
-Christina