Sarah's Pick
Silver Shadow's (Bloodlines #5) by Richelle Mead
In The Fiery Heart, Sydney risked everything to follow her gut, walking a dangerous line to keep her feelings hidden from the Alchemists.
Now in the aftermath of an event that ripped their world apart, Sydney and Adrian struggle to pick up the pieces and find their way back to each other. But first, they have to survive.
For Sydney, trapped and surrounded by adversaries, life becomes a daily struggle to hold on to her identity and the memories of those she loves. Meanwhile, Adrian clings to hope in the face of those who tell him Sydney is a lost cause, but the battle proves daunting as old demons and new temptations begin to seize hold of him. . . .
Their worst fears now a chilling reality, Sydney and Adrian face their darkest hour in this heart-pounding fifth installment in the New York Times bestselling Bloodlines series, where all bets are off.-

Summary from Goodreads
I just finished the VA books at the end of last year and was putting off reading Bloodlines even though I had heard great things about it because I wasn't sure about Sydney as a main character. Then I got the first book at the library booksale and it was SO PRETTY that I just had to read it. I was hooked. A few weeks later I'm finishing Fiery Heart and am on the edge of my seat to find out what happens next.
Christina's Pick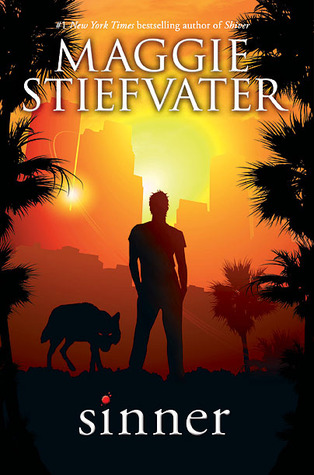 Sinner (Wolves of Mercy Falls) by Maggie Stiefvater
Sinner follows Cole St. Clair, a pivotal character from the #1 New York Times bestselling Shiver Trilogy. Everybody thinks they know Cole's story. Stardom. Addiction. Downfall. Disappearance. But only a few people know Cole's darkest secret -- his ability to shift into a wolf. One of these people is Isabel. At one point, they may have even loved each other. But that feels like a lifetime ago. Now Cole is back. Back in the spotlight. Back in the danger zone. Back in Isabel's life. Can this sinner be saved?

-Summary from Goodreads
Every Shiver fan has been waiting for this book since Forever (yes, that was a pun), but it wasn't until recently that we actually knew we would get it.
I made the mistake of reading the excerpt and
hungry for this book ever since. Plus I went to California a couple of weeks ago and I'm looking for a book that can bring back that feeling of the California sunshine.